Waste container tipper UVK 2021 A
Waste container tipper UVK 2021 A
Divided, electrically controlled waste container tipper with automated discharge/release cycles, with manually operated crossbar.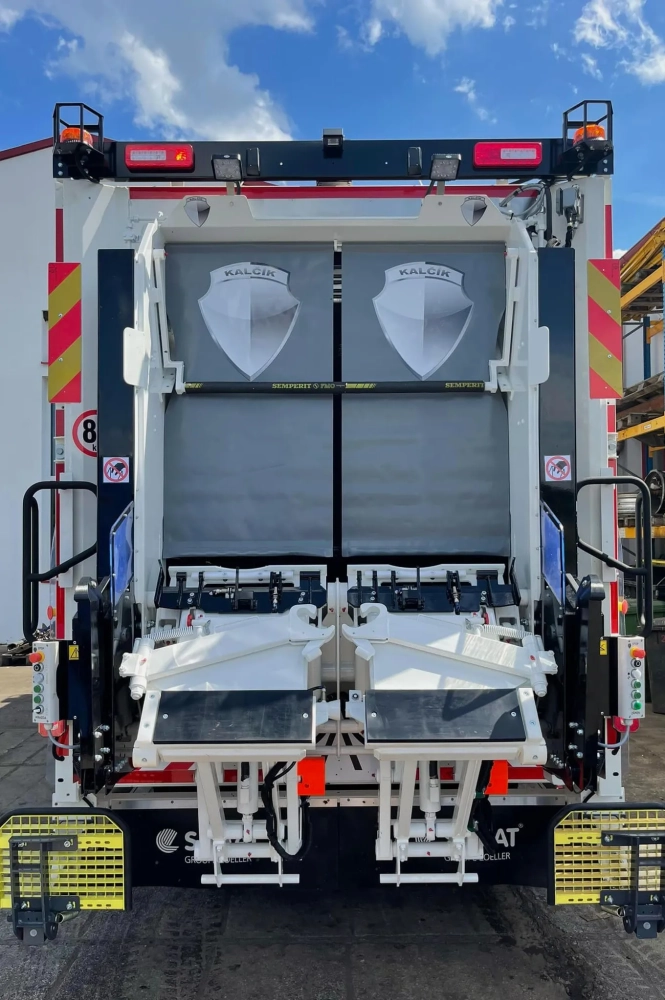 Ilustrační foto
Inquire about production
Robustness of the construction, together with the use of high-quality materials, allowed to create a high-quality universal tipper with high efficiency and minimum demands on maintenance.
The tipper has a robust frame construction with simple design, divided shaft, is electrically controlled with automated discharge/release cycles, with both right and left control. Tilting arms are mounted on the shaft, which form a four-element mechanism. On the end of the arms, there is a carrier with a rack for hanging 70 l to 340 l containers. Additional pivoted arms for emptying 660 l to 1,100 l containers are mounted on the sides of the carrier. Opening of the round lid of 1,100 l containers is provided by a mechanically operated crossbar. The movement of the tipper is ensured by six hydraulic cylinders. The tipper is attached to the body with six screws. The filling hole is covered with a divided tarpaulin.
In the transport position, the equipment is secured with a spring latch. Maximum operator safety thanks to the kinematics of the tipper's movement, the tipper performs only vertical movement during lifting. Two covering side shields preventing the risk of inserting the operator's limb in the area of moving parts of the tipper. The tipper is designed for mounting on waste collection bodies that have a rear cover adapted to DIN 307 31. If the body does not comply with DIN 307 31, the installation must be made using an intermediate frame.
A container identifier may be mounted on the tipper.
Technical data of the UVK 2021 A
Designed for waste containers:

round 70 l and 110 l,
angular, 2-wheel 120, 240, 340 l, 4-wheel 660-1100 l also with flat lid

Discharge/release cycle time: Pressure oil jet on the coupling: min. 33 l max. 50 l/min

70 l to 340 l – 8 seconds
660 l to 1,100 l – 14 seconds

Operating pressure: 180 bar
Max. pump pressure: 210 bar
Weight: 650 kg
Height of the built-in system:  1300 to 1650 mm
Varnishing: reactions primer and top coat are acrylic paint in RAL shades