Waste container tipper OCK 1124
Waste container tipper OCK 1124
Undivided, open waste container tipper with manual control of the lever distributor.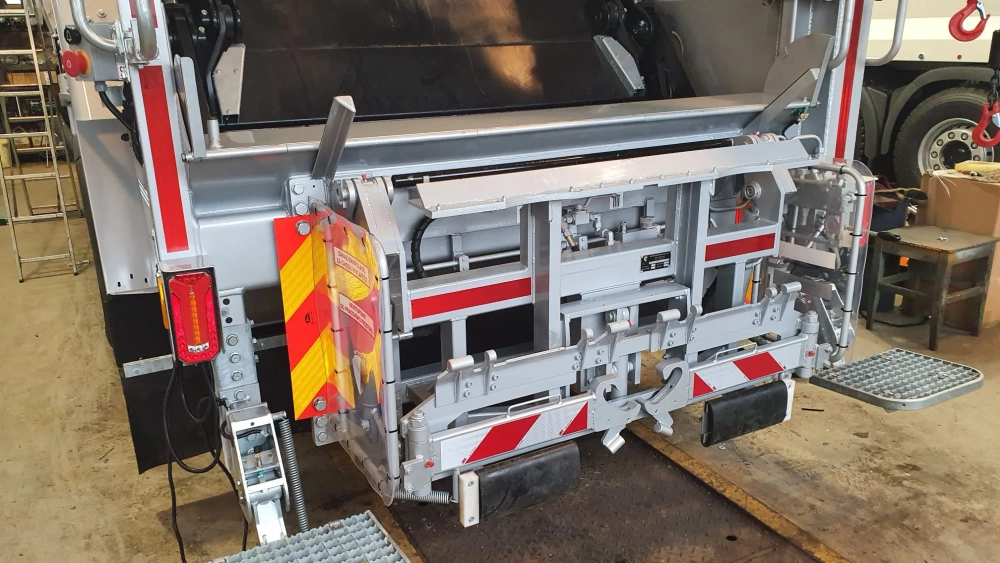 Ilustrační foto
Inquire about production
An open, robust tipper with robust construction and minimum demands on maintenance. Tilting arms are mounted on the shaft, which form a four-element mechanism. On the end of the arms, there is a carrier with a rack for hanging containers (80 l to 340 l according to ČSN EN 840-1, 500 l to 1,100 l according to ČSN EN 840-2 and 770 l to 1,100 l according to ČSN EN 840-3); using built-in hooks, it is possible to lift containers (35 l to 50 l, 110 l according to DIN 6628/9).
Additional pivoted arms for emptying containers (500 l to 1,100 l according to ČSN EN 840-2/3) are mounted on the sides of the carrier. The movement of the tipper is ensured by three hydraulic cylinders. The entire tipper is controlled by a hydraulic level distributor with right control. The tipper is attached to the body using a mounting plate. Maximum operator safety thanks to the kinematics of the tipper's movement, the tipper performs only vertical movement during lifting. Two covering side shields preventing the risk of inserting the operator's limb in the area of moving parts of the tipper.
A container identifier may be mounted on the tipper.
Technical data of the OCK 1124 tipper
Tipper control: one-sided, on the right side of the tipper
Method of discharging containers: Pressure oil jet on the coupling: min. 33 l max. 50 l/min

a) using built-in hooks 35 l to 50 l, 110 l according to DIN 6628/9
b) using rack 80 l to 340 l according to ČSN EN 840-1, 500 l to 1,100 l according to ČSN EN 840-2 and 770 l to 1,100 l according to ČSN EN 840-3
c) using two side arms and pins 500 l to 1,100 l according to ČSN EN 840-2/3

Container(s) discharge speed: Operating pressure: 150 bar

containers up to 340 l – 10 seconds
containers from 500 l to 1,100 l – 14 seconds

Oil flow: 20 - 30 l
Weight: 320 kg
Height of the built-in system: 850 – 1150 mm
Noise level:76 dB